Business Loans
Better financing solutions to grow your business
Business loans can be difficult to secure at competitive rates in today's higher interest rate lending environment.
Stryde Business Solutions assists many U.S businesses to secure a business loan with closing rates that are over 16X traditional bank closing rates that have declined precipitously as interest rates have increased.
These include loans and refinancings for commercial real estate owners and investors needing to secure construction loans, bridge loans and equity, large balance mezzanine loans, apartment and multi-family building loans, and office and medical facility building loans.
With rising interest rates, many banks and conventional lenders have become even more reluctant to provide financing for commercial real estate projects and investments.
Closing rates that were already weak at around 20% of applicants are now averaging only a 5% closing rate when financing is available at all.
Even in 2020 bank and credit union lending to small businesses was down 50-60% and more since comparable months in 2019.
It's that much worse today.
Because of Stryde's ability to first strengthen client's credit-worthiness by improving their bottom lines with tax savings and cost remediation, Stryde Business Solutions is consistently experiencing 80-90% closing rates for commercial loans.
This is because of Stryde's diverse consortium network of over 2,000 direct and bridge lenders and equity investors.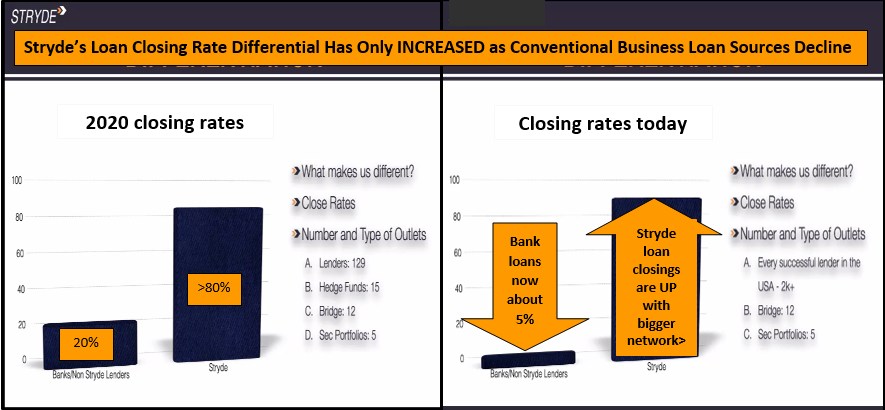 Corporate Loans Service
Our consortium of select companies and individuals with expertise in a variety of funding environments is able to customize financing for corporate real estate and business purpose financings.
Each member of the team has been carefully selected for their expertise, knowledge and contacts with their specific niche markets.
This elite group works as a team to find solutions tailored to the needs of your business. Our consultations are confidential and leverage these combined resources to insure the best possible chance for funding success.
Business Financing
The three C's are the three major factors that lenders consider:
cash flow,
credit and
collateral.
When businesses can demonstrate all three they stand a good chance of getting the funding they need.
However, all too often something is missing and usually it's a lack of collateral since many businesses don't own buildings, valuable machinery or inventory that could easily be liquidated.
Many times those businesses will be denied financing. However, with Stryde very frequently we're able to accomplish financing opportunities and options for them.
Real Estate Financing
Before fully recovering from the last financial crisis commercial banks have been further impacted by the COVID pandemic and have reduced funding for even good projects due to all the marketplace uncertainties.
This has included cutting funding for projects in progress and refusing to refinance loans with balloon payments – a common feature in traditional commercial mortgages.
While interest rates have risen, we're able to secure highly competitive rates because of the volume of loans we originate with our lender network.
The Stryde network of lenders remains highly interested in participating in both facilitating and servicing the needs of corporate borrowers in today's challenging corporate loan environment..
Contact us today for a free assessment of your business borrowing or equity investment needs.